Tintagel
Click for location map (in pop up window)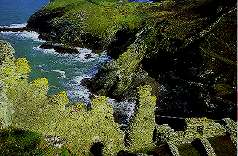 King Arthur's Camelot, or so legend would have us believe, whether or not it is true the power and majesty of the ruins of the Castle, built about 1145 have been drawing visitors since Tennyson's 'Idylls of the King' publicised the legendary links the village and King Arthur.

Apart from the Castle there are 'King Arthur's Hall' with it's stained glass windows telling the King Arthur Story and the 'Old Post Office' owned by the National Trust, an enchanting manor in miniature dating from the 14th century and used as a post office during the Victorian period. There are many gift shops in the village selling goods related to the King Arthur legend and several restaurants & cafes.

North of Tintagel is Boscastle, while to the south is Port Isaac.